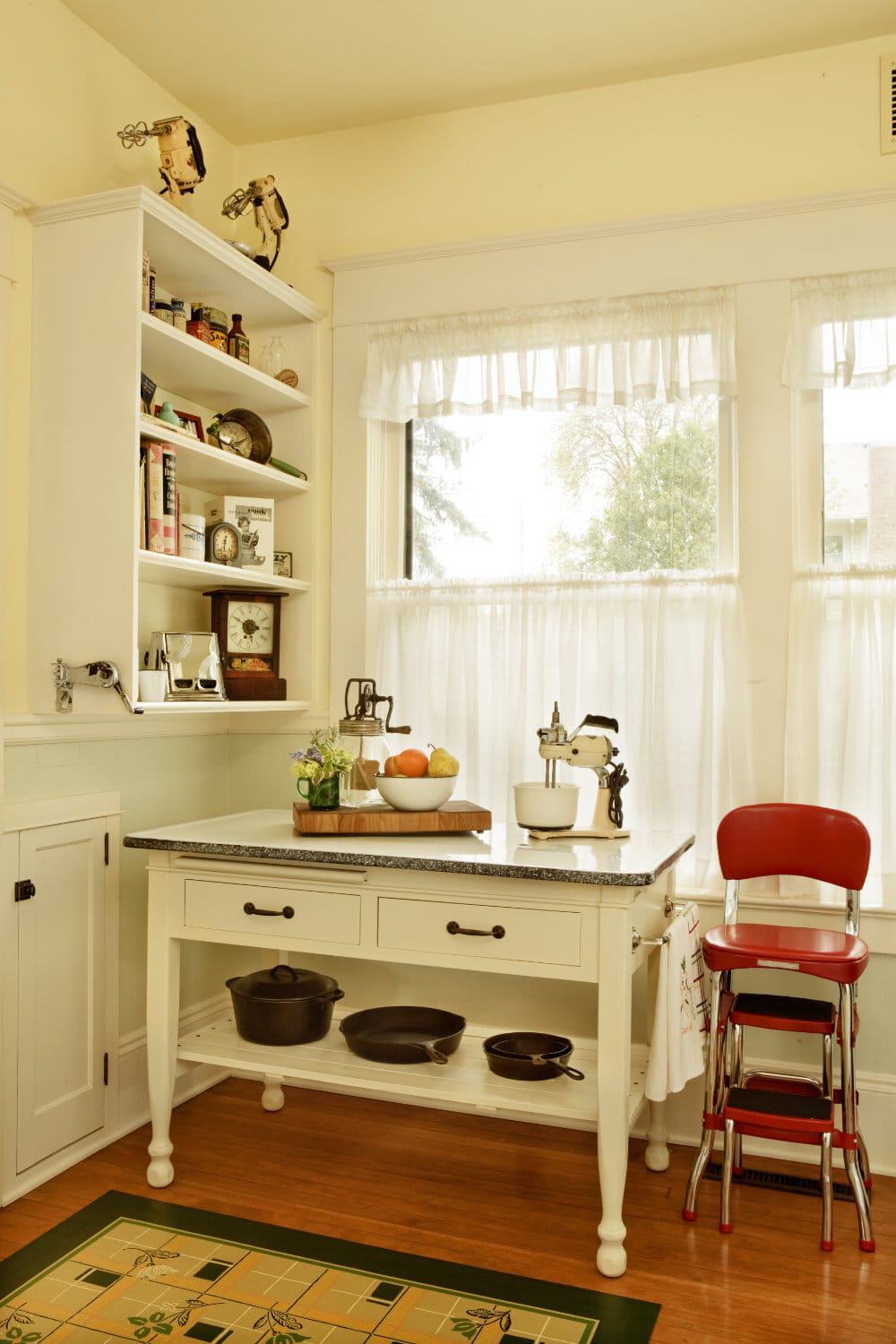 Early 1900's Home
Sig and Jack's home was built in the early 1900's. It still contained many original features, including light fixtures, wall treatments, and incredibly enough it still retained its original kitchen. There were 4 doors leading into the kitchen. One from the hall, one from the pantry, one from the basement, one to the back porch. The old wood lift was no longer functioning, but the shaft was still there. The kitchen also retained its huge case iron porcelain sink. It has scored plaster walls, and very little storage. The kitchen was also narrow, laid out like a galley kitchen
THE CHALLENGE —
Sig loved to bake, and she had two full sized ovens in the kitchen. She also had very little storage, so her cooking supplies were in bins stacked all through the space. She had a hard time finding things and it was not easy for her to work in. She could not see how to make the space work but also didn't see how ripping the kitchen out would solve her problems.
The Vision
Sig asked Karla to come take a look at her kitchen at the advice of a friend. Sig was not hopeful, but had Karla come take a look anyway. Karla could immediately visualize how the kitchen could be retained and made functional through some relatively simple shifts:
Remove the two stoves and find one large stove that would better fit Sig's needs.
Create storage on the wall near the basement door.
Exchange the very large period cast iron sink for one that was smaller.
Use a traditional work table in the space by the window that had been occupied by the second stove.
Restore the butler's pantry area that had been remodeled in the 1980's to create more functional storage and bring the space into harmony with the kitchen and the rest of the home.
Replace contemporary lighting with functional period lighting
Karla called on the skills of her strategic partner, Matthew Roman of Roman Design to help with the drawings needed to create this new vision of the kitchen and pantry space. 
The Results
Matthew was able to bring his expertise of period cabinet design into play, which made the space flow.
Sig and Jack ended up with a beautiful and functional period kitchen and butler's pantry. None of the doorways were moved or closed in.
The kitchen layout remained essentially original, with the exception of the wood lift shaft, which was converted into usable storage.
In order to meet Sig's needs for baking, a 1950's double oven stove was located and shipped in from California.
The kitchen was such a success that it was featured in Old House Journal.